doPDF
Your free PDF creator
About doPDF
Short overview of doPDF
PDF stands for Portable Document Format and it was created by Adobe to ease document exchange. doPDF is a free PDF printer that does what the name suggests, creates PDF files. Once installed it will allow you to convert any type of printable documents to PDF files.
doPDF installs itself as a virtual PDF printer driver so after a successful installation will appear in your Printers and Faxes list and also in the list of All Programs.
With it you can convert your Word documents, Excel sheets, PowerPoint presentations, AutoCad drawings, company's reports, contracts, workflows, agreements, marketing plans, forms, products list, price list, charts, emails or web pages - and basically any type of printable document.
Using doPDF you can convert to PDF in two ways, via the Print option in your document or using the Startup window.
Print to PDF via the virtual printer driver doPDF.
You would do this exactly as you print to a regular printer, just the result will be a PDF file, not a printed piece of paper.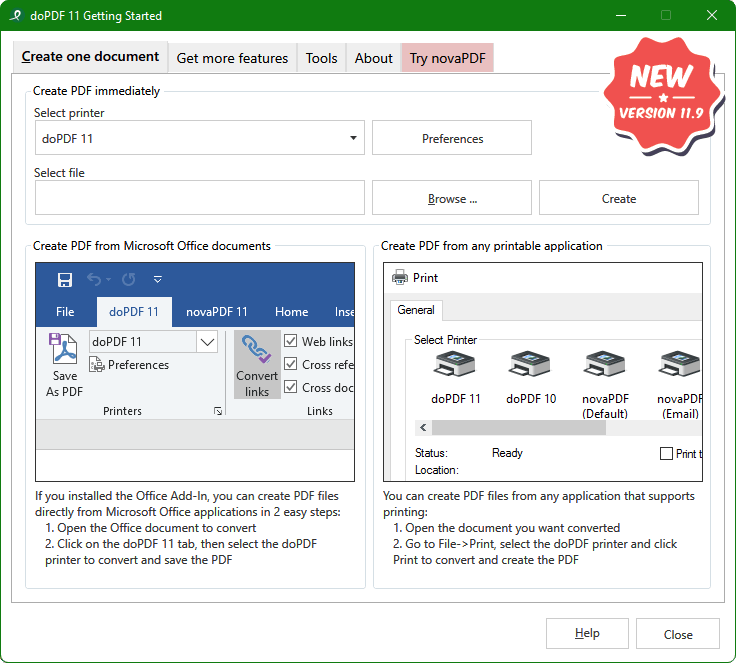 Using the doPDF Startup window.
doPDF has an executable file (accessible from the start program group) that you can run in order to start a conversion wizard.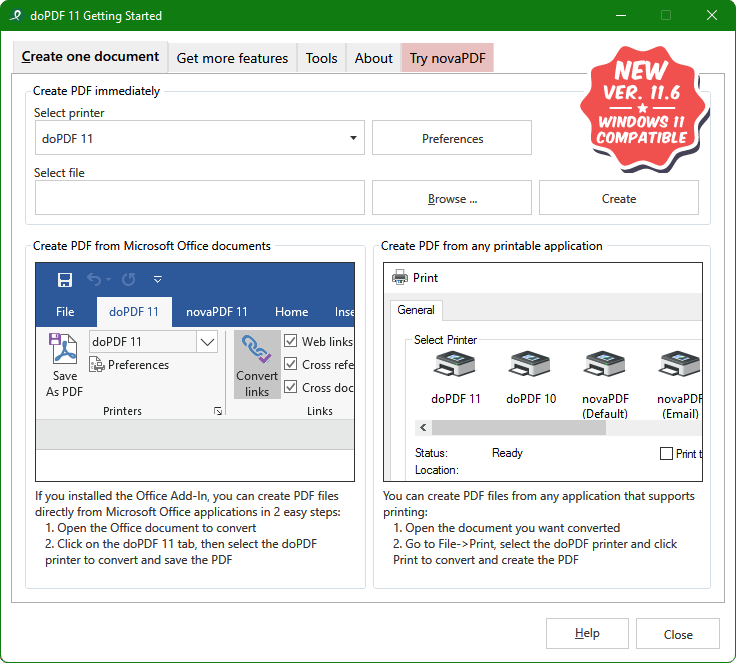 Main Features
What makes doPDF stand from the crowd
Es simple y rápido
solo elige QUE documento convertir y DONDE guardarlo y doPDF hará el PDF antes que termines de decir supercalifragilisticoespiralidoso.
Ahorra tu dinero
doPDF es un conversor PDF gratis tanto para uso comercial como personal. No te costará un centavo crear archivos PDF (sin embargo, sería ideal que actualizaras a novaPDF).
Soporta 32 y 64 bit
el mismo instalador puede usarse tanto para sistemas operativos Windows basados en 32 o 64 bit (y para cualquiera múltiple de 32 bit, en cuanto llegue).
Universal
puedes convertir a PDF cualquier documento imprimible (p.e. DOC, XLS, PPT, PUB, DOCX, XLSX, PPTX, PUBX, HTML, TXT,...).
Sin GhostScript o Adobe Acrobat
no require programas de terceros para crear archivos PDF, tales como GhostScript o aplicaciones como Adobe Acrobat. Esto hace al programa instalador increiblemente pequeño comparado con otros conversores gratuitos.
PDFs buscables
puedes buscar texto dentro de tu archivo PDF (y los motores de búsqueda pueden indexar texto dentro del archivo).
Multi lenguaje
doPDF es el UNICO creador de pdf traducido actualmente a 33 (interfase) y 30 (sitio web) (y seguimos creciendo, gracias a nuestros traductores).
Utiliza muy pocos recursos de tu computador
comparado con otros conversores gratis, doPDF utiliza muy poco o nada la memoria o la CPU de tu computador al momento de efectuar las conversiones.
Haz tu parte salvando el planeta
en lugar de usar papel impreso, ¿porqué no crear un archivo PDF y así ayudar a salvar unos cuántos árboles?
Tamaños de página predefinidos
puedes elegir entre varios tamaños de página predefinidos, tales como: A4, A5, A6, Carta, Oficio, Ejecutivo, Sobre DL/C5/B5/Monarch/#10.
Tamaños de página ajustables
si requieres un tamaño de página diferente de los predefinidos, puedes definir tu propio tamaño con solo ingresar el ancho y alto deseado (podrás crear documentos tan pequeños como 10x10 milímetros, o tan grandes como 3276x3276 milímetros).
Unidades de medidas
puedes elegir la unidad de medida entre milímetros, pulgadas o puntos, y así evitar realizar innecesarias conversiones de medidas.
Resolución gráfica
puedes ajustar la resolución de las imágenes entre 72 y 2400 ppp. Una pequeña resolución generará un pequeño archivo PDF, pero de baja calidad de imagen, mientras que una alta resolución deriva en mejor calidad de imagen, pero archivos PDF más grandes. El valor por omision es 300 ppp.
Escala gráfica
el contenido del PDF resultante puede reducirse hasta un 1% del tamaño original, o crecer hasta un 400%.
Orientación de página
Es fácilmente ajustable la orientación de la página a Horizontal o Vertical, pudiendo ver los cambios directamente en la Vista Previa.
Elige tu propia carpeta
Con doPDF puedes crear y guardar un archivo PDF siempre en la misma carpeta cada vez, sin importar desde donde abras el archivo original.
Tipos de letras
Para garantizar que el archivo PDF resultante lucirá exactamente igual que el documento original, doPDF asume los mismos tipos de letras usados en el documento original.
Abrir con tu lector de PDF
Puedes elegir que el PDF se abra con tu lector de PDF, una vez que termine la conversión.